Hard working semi vac's ready to go!
The Semi Vacs have a capacity of 22 – 30m3 but on average haul 16-18m depending on the weight of the product they are hauling and road restrictions.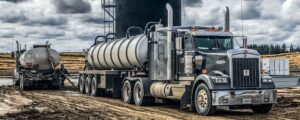 Services
Support for Rig, Facility, and Field Operations
Drilling Operations
Tank Stinging and Door pulls
Turnarounds
On-site transfers
Truck to truck & Fluid Transfers
Spill Clean ups
Liquids, Solids, slop and Sludge hauling
And more…
Equipment
Equipped with H2S Scrubbers – cartridge & liquid types
22m3 – 30m3 max capacity
Self Contained unit
Tri Drive unit
Get Our Equipment Working For You
Give us a call and we will book your job right away.